TOP TRUCK - SMOOTH AS WHISKY under the Hokonuis
Credit to NZ Trucking Magazine for the article

TOP TRUCK - SMOOTH AS WHISKY under the Hokonuis
A livery synonymous with rural cartage in Southland has just put its second Scania on the road – this time HRT has gone big, safe, smart, and comfortable – the latter meaning for all the occupants!
Smooth as whisky with a punch to match pretty much sums up the latest acquisition for Gore's Hokonui Rural Transport (HRT). The company is known for having a mix of brands making up its 20-strong truck fleet. All the trucks are charged with servicing the rural sector in some way or other. This month's Top Truck is the second Scania in the company's colours, the first being a spreader. Managing director Adam Waghorn weighed up several things before getting the Scania across the line. Price, backup service and reliability are your main tick-box items on the list, but for Adam, driver comfort, safety, and the ability to get a low chassis height were just as important. Hokonui Rural Transport is a joint venture between Adam and the HWR group, so it's not easy getting something outside the normal into the fleets, but the safety features on the R620 fitted right in with what HWR requires, operator safety being high on the list of requirements.

Photo: Thanks to tech, materials, craftsmanship, and pride from the likes of Transport Engineering Southland and Delta Stockcrates, trailers today are co-stars rather than bland 'ole mate out the back that simply carries the load.
"The tare isn't bad for a high roof sleeper cab Euro, coming in at just under 25 tonne. It weighs the same as the sleeper cab K200 Kenworth on the same work, with the lightweight leader being the Argosys at just under a tonne leaner than the other two," says Adam, who points out that the weight was a small price to pay for the driver comfort and safety. The Scania does have some additional stainless steel for extra eye appeal, and highly rated Steve Keast from Transport Engineering Southland Ltd (TES) in Invercargill has done his best to keep the weight down without skimping on the shiny stuff either. The beautifully built trailer and monocoque deck carry equally impressive Delta crates. All HRT crates are Delta units, as their workmanship is hard to fault. The step-decked trailer and crates were chosen to give the cattle more back room. In a region now teeming with dairy farms, carting cattle is a huge part of the business, and having the best options available to carry them is important. Scania invited transport operators throughout New Zealand to Geelong in Australia to test drive the Scania, and Adam was impressed with the standard spec and the new Opticruise GRSO905R 14-speed gearbox, with its increased shift speed over the previous version.
The 620 V8 Euro 5 went to Cliff Mannington's Truck Signs in Tauranga where they worked their magic on the truck. From there it went to HRT, its new driver Adam English, and then straight onto milk cartage, common for new HWR Group trucks. After 70,000km in that work it was set up with its new crates and trailer. Adam English learnt the transport game the right way, and he says piloting the big Scandinavian is a pleasure. Coming out of high school at 17, he went to HRT washing out sheep crates before obtaining his class 2. He started doing flea (small truck) work around Eastern Southland, while still washing out crates, and then gained his class 4 and 5 licences. An FH 460 Volvo was the first big mount, followed by an FH 540 with I-Shift, then a new Freightliner Argosy with a 5-axle trailer in 2013. He ran that to 600,000km after six years before he went onto the new R620 V8. He's been with HRT for 10 years now and is happy to be there for another 10 years. For him, the Scania is the pinnacle. A bit of driver training from Scania's driver training supremo Chris Foot, and from there, he set the truck up to suit himself. "Everything about this truck is just 10 times better than anything I've driven. It's 10 times more comfortable, more powerful, has better retardation, and better fuel economy," he says. Adaptive Cruise Control makes life behind the wheel a dream, and at the end of the day he doesn't feel like dropping off to sleep on the couch after dinner. The R4100D retarder is one of the best when it comes to keeping the service brakes fresh.
The truck looks great on the outside and Adam is equally spoilt by the inside. He removed the carpet for a more user-friendly vinyl in the cab, which made sense for livestock work. Add in a great bed, plenty of room in the cab to stand up in, and no shortage of storage, and you can see why he is happy to spend as much time as possible in here. Adam operates the Opticruise AMT in the standard mode to get the best fuel economy, and is always looking for ways to get the most out of the engine. Little adjustments lead to big gains. Everything the Scania does seems effortless, and Adam is surrounded by some of the best safety features of any truck on the market. Adam Waghorn has specced the unit with Wabco TailGUARD just to make backing safer.
The system stops the truck dead if it senses something in the way when backing. It also lessens any impact in its line of work, protecting the rear of the truck or trailer as well as the livestock ramps. The HRT Scania is a standout in a region swamped with standout gear. There is an attention to detail with the way this truck looks that is not lost on either of the Adams. The new generation Scanias are proving popular, and the Hokonui unit with its step deck trailer, a design style in vogue currently, is not only receiving fleeting glances, but also hands-on-hip nods of approval from those in the industry. It remains to be seen what Adam Waghorn purchases next. Only time will tell.
FAST FACTS
Engine: DC16 115 L01 V8
Capacity: 16.4 litre
Power/torque: 462kW (620hp), 3000Nm (2213lb/ft)
Emissions: Euro 5 (SCR)
Transmission: 14-speed Opticruise GRSO905R
Clutch: K432 26 Automatic
Retarder: Scania TMS R4100D 5-stage
Rear Axle: Scania RBP662 with full lockup/load transfer
Suspension: Front springs/rear air
Extras: Dura-Bright wheels, lighting, stainless guard, Wabco TailGUARD
Proud to be an NZTA 5 Star Operator
The Operator Rating System (ORS) is a system that aims to improve the safety of heavy vehicles on our roads, making journeys safer for all.
It is one of the tools that the NZ Transport Agency and New Zealand Police use to identify potentially higher-risk operators for further investigation and assistance to improve their safety practices, and auditing and targeting purposes.
The ORS provides an environment for willing compliance, encouraging transport operators to make their vehicles and driving practices as safe as possible, and to comply with their regulatory obligations that contribute to safety.
Similar to a restaurant or hotel rating, the ORS scores range from between one and five stars, based on how you have been assessed in safety-related events over a given 24-month time frame.

Click here to find out more about how ORS benefits our customers https://nzta.govt.nz/commercial-driving/operator-rating-system-ors/what-is-the-ors/
BOLD... and a winner
PPG Transport Imaging Awards achieves in style. On the road,
the trucks of Southland's Hokonui Rural Transport are hard
to mistake. Even from the front, where many colour schemes
can be anonymous, the yellow 'HRT' and its bold under-flash
make for instant recognition.
And from the side there's no confusion at all, courtesy not
only of the company logo repeated large on crate or body
sides but also the ribbon-like yellow stripes that adorn the
cabs. In contrast to the aerodynamic swoop of most side
stripes, these are bold, geometric...and impossible to mistake.
Tis characteristic gained across-the-board approval from
the Awards voting panel, comprising PPG NZ's general
manager Dave White and the company's commercial vehicle
manager Mark Brearley, the Road Transport Forum's Mark
Ngatuere, Allied Publications managing director Trevor
Woolston and NZ Truck & Driver magazine editor Wayne
Munro.
As Mark Brearley put it in his judge's comments: "Te bold
yellow lines and logo make for a very clean looking scheme.
I believe the new look HRT has the right blend of an old
school look and a modern twist. Te yellow stripe really
makes it stand out."
His thoughts were echoed by Trevor Woolston: "It's bright
and stands out well," he commented.
Dave White was impressed by the design's white, yellow
and sea green primary colours: "It's a nice combination, and
offers up a good looking livery."
For Wayne Munro, the fundamentals of the HRT scheme
lie in its visual strength: "It's not the most beautiful livery,
but certainly one of the most striking, with bold branding to
the front and sides."
Te HRT scheme emerged a winner from the strong
feld of monthly fnalists that have been featured over the
past year, heading off Rorisons RMD and Switzers Valley
Transport, who tied on the voting tally.
HRT's manager, Adam Waghorn, credits Cliff
McDermott from Invercargill's McDermott Signs with a
lot of the inspiration for the current design, the result of an
extensive makeover in 2013. Te company was formed in
2001 when the rural part of Hokonui Haulage was split off,
to become a member of the HWR Group, with Hokonui
Haulage continuing as an independent entity. At the time
HRT dropped the yellow chassis colour that's still a Hokonui
Haulage trademark, but retained the three main colours
with white above and below a broad central blue-green band,
and narrower yellow keylines. 'Hokonui Rural' replaced the
'Hokonui' across the front, in very similar lettering.
Te 2013 redesign dropped the front Hokonui Rural
name, leaving only the logo above, and made the yellow side
stripes much more prominent, with sharply defned central
flashes, plus a vertical arc at the back of the cabs encasing
more of the green. Suddenly, the fleet had a unique and very
distinctive identity.
However, the boldness and comparative complexity of the
design carries its challenges, admits Adam Waghorn: "With
each different truck model it needs quite a bit of work to
get just right. With the Space Cab DAF CF85s we put on
recently we were worried there might be too much green...
but in the end I think we got it right."
Te process with each new model is a collabarative one
with Cliff McDermott, he explains: "I do some doodling,
Cliff comes up with a basic design, and we put the ideas
together. Ten he marks it all out on tape on the truck, and
we go down and have a look and a discussion. We fnd that
hands-on approach gives you a really good idea of how it
will look."
Bold doesn't mean the details are overlooked, either. Te
trucks all carry discreet scrollwork and pinstriping, in the
same grey colour used on the chassis.
For all the cleverness and impact of the colour scheme's
design, Adam reckons it would be wasted if the trucks
weren't kept clean: "It's a credit to our staff. Tey take pride
in keeping the trucks looking good. Tat's not easy with stock
work, but they put in a real effort, and it shows."
HRT's success in this year's Awards has many echoes of
last year's winner, Ryal Bush Transport. Both are Southland
frms, both owned in partnership with the HWR Group...
and both fleets use McDermott Signs for their signwriting
and the neighbouring Bob Christie Ltd for their painting.
Proof of the adaptability of the HRT scheme can be
seen in its successful application not only on three different
highway cabover models currently in the fleet – Freightliner
Argosy, DAF CF and Kenworth K200 – but also the
company's Mercedes-Benz Axor sowers. With the sowers'
limited cab side space the stripes could have tipped the looks
into caricature, but they work well.
And given the range of brands already within the fleet,
Adam's not ruling out having to go through the finetuning process again sometime soon if the
next new truck is from another brand
yet again.
Courtesy of Truck and Driver
Long Service and End of Season Staff Function
Great night on friday at our end of season staff function. We also had some long service awards to celebrate within the business congratulations to the recipients
Paul Barbour 10 year service
Barry Haugh 10 year service
Bob Voigt 30 year service
Wayne MacGregor 35 year service
Allan Clarke 40 year service
And Doug McDiarmid received recognition from the Road Transport Association for his outstanding contribution to the road transport industry for 50 years continued serviced.
Young Gore truckie takes out top prize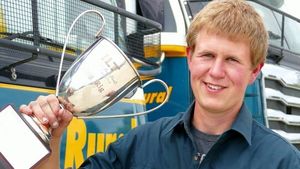 More than 18 hours of polishing and five cans of tyre shine is what you need to take out the title of King Rig, a young truckie has learned.

Bradley Curtis, a 19-year-old truck driver for Hokonui Rural Transport, was named the winner of the King Rig competition during the Invercargill Truck Parade on Sunday.

Curtis, who is in the process of achieving his heavy transport licenses, said he got just two hours sleep in the days leading up to the parade, having spent so much time getting the truck ready to put on show.

"It was just one of the ones in the fleet I kind of liked."

He spent six hours polishing the stock crate, and about 12 hours on the eight truck wheels and 10 trailer wheels.

Curtis also took out the title of Best Kenworth truck.

The young truckie said he would encourage all young people to give truck driving a go.

"It's really cool. You get to see different parts of the country all the time. It's an honest living."

Curtis' manager Adam Waghorn said Curtis' win was a great achievement for "the young fella".

Hokonui Rural Transport had "picked" Curtis up while he was studying at the Southern Institute of Technology, and offered him a fulltime job, Waghorn said.

"It's great to see the younger ones coming through. And he just takes so much pride in his gear."

Invercargill Truck Parade organiser Mark Purdue said about 130 trucks were entered for judging in the competition, while about 150 trucks cruised through the city for the parade.

Judging for the King Rig award was based on the presentation of the truck, including cleanliness, bling, and wow factor, Purdue said.

"You look for the time an effort [the driver spent on it], how clean the interior is, whether the outside was clean and tidy, and if the exhaust is tidy and shiny."

No stone was left by the judges, who would check under floor mats and sun visors for dust, he said.

Purdue said Curtis was "absolutely over the moon" when he was named the winner.

It was great to see a young driver taking pride in his vehicle, he said.

The trucking industry was trying to show school-aged kids that driving was a viable career choice, Purdue said.

"It's not just being a truck driver, you could be a dispatcher, or an accountant for a company.

"The problem with the shortage of drivers in Southland ... is that it takes three years to get your HT [heavy traffic] licenses."

Earlier in the weekend, 18 different companies offered up a truck each to take children for a ride.

Purdue said more than 230 kids showed up, with one of the most popular choices a concrete truck.

FULL RESULTS
King Rig - Bradley Curtis, of Hokonui Rural Transport.
Runner-up - Cole Frew, of Eden Haulage
Best new truck
Under 20,000kms - 'Dirty', of Switzer Valley Transport
20,000 - 100,000 kms - 'Big Al', of Central Southland Freight
100,000 - 300,000kms - Ken, of Toll
300,000 - 600,000kms - Colin Wallace, of Eden Haulage
600,000 - 1millionkms - Garreth, of Dixon Transport
Best fleet - Eden Haulage
Longest Distance Travelled - Vaughan Peart, of Brenics
Shiniest Rims - James Moynihan, of Summerland Express
Best
Paint Job - Cole Frew, of Eden Haulage
Working Truck - Nathan Bates, of Jim Bates Contracting
Linehaul - Vaughan Peart, of Brenics
Fuel Tanker - 'Nev', of Allied Petroleum
Logger Truck - Phil Taylor, of Southern Transport
Fertiliser Spreader Truck - Joseph Petch, of D T Kings
Stock Truck - Brad Lloyd, of Murihiku Haulage
Gravel Truck - Robbie Officer, of Ryal Bush Transport
DAF - Steve, of Rohan Haulage
Freightliner - Davey, of Northern Southland Transport
Hino - Wayne Booth, of McNeill Distribution
International - Scott Hutton, of Murihiku Haulage
Isuzu - Jock Evans, of AZAP Couriers
Iveco - 'Gibbo', of Central Southland Freight
Kenworth - Bradley Curtis, of Hokonui Rural Transport
Mack - Sam Howden, of McNeills Distribution
MAN - Mark, of Kapuka Heenans
Mercedes - Gary Smart, of Transport Services Southland
Fuso - James Allison, of Southern Transport
UD Truck - Daniel Kent, of D T Kings
Scania - Mason Murphy, of Andrews Transport
Volvo - Darryl Shand, of Freight Haulage
Western Star - Ross Carlene, of Halls Refrigeration
Other - Carlos, of Jim Bates Contracting
Vintage - Tony, of Southern Transport

Source - Hannah Mcleod, The Southland Times
Photo - John Hawkins

In Search of Perfection
Southland's Hokonui Rural Transport could
be considered something of a work in progress.
Under regular revision, that is – as the company goes to
great lengths to make sure each new make and/or model added
to the Gore-based fleet looks "perfect."
It's a livery that was born of change – created after the
company was formed following the two-way split of Hokonui
Haulage in 2003.
The new Hokonui Rural Transport retained the sea-green
and white primary colours of the old company, but modified
them into a new colour scheme, featuring a deeper band of
green across the cab, a broad stripe running from the aero
kit through the crates and yellow pinstriping highlights. The
previous yellow chassis was also dropped in favour of dark grey.
A distinctive HRT logo and Hokonui Rural signage was
designed then – and has remained a constant in the 13 years
since….even through a change of the owners involved in the
50% partnership with the HW Richardson Group.
But the livery did get a major makeover three years ago,
with a modern – and much more prominent – restyling of the
yellow striping on the side of truck cabs.
Rather than the former, more traditional airflow-style
striping, with its gentle curves, the new stripes are more
sculpted, more ribbon-like….almost like a loosened bow. And
there's a sweeping, crescent-shaped sea-green section at the
rear of the cab sides, framed by another yellow stripe.
With extra grey and yellow pinstriping, there's a lot going
on in the colour scheme – but it all comes together to provide
a standout look to the Southland operation, which currently
runs to 23 trucks, comprising livestock units, tippers and bulk
fert groundspreaders.
The latest addition to the fleet – a DAF CF85 which
features as this month's poster truck and earns HRT a finalist
spot in the annual PPG Transport Imaging Awards– has called
for more fine-tuning, says HRT manager Adam Waghorn.
"We're forever trying to improve it (the colour scheme)," he
confirms.
"This DAF was quite a challenge – just to try and figure out
a plan. We're quite lucky – we've got a pretty good relationship
with our signwriter, Cliff McDermott from McDermott Signs
in Invercargill, so we've spent a lot of time planning… and he's
right on the money." The plan included painting two grille slats
silver.
The painting is done by Bob Christie Ltd: "It's quite handy –
they're right next door to each other."
Waghorn admits that with the Space Cab DAF: "We were
worried for a start – because it's such a big cab – that we had
too much green. But I think it's come out pretty good to be
fair."
In fact, on second thoughts, he upgrades that: "No, we were
rapt actually. It came out real good."
A third new DAF is just being painted now and they've
agreed on more minor changes – making some of the grey
pinstriping slightly darker "to make it stand out a bit. It is quite
hard to see until you're up quite close."
The previous challenge before the DAFs was making the
most of the livery on three new Mercedes-Benz Axor sowers
added to the operation – the first of that model on the fleet.
Last year, there were also two new Kenworth K200s that
the livery had to be adjusted to suit: "It took a bit – just to get
it perfect."
There is only one conventional on the fleet – a Freightliner
Century Class. Its livery predates the revised striping in
2013, which was first applied to two new Freightliner Argosy
livestock units.
The look of the trucks, Waghorn confirms – unnecessarily,
considering the painstaking work that's gone into each
new make and model added to the fleet – is "definitely very
important. We like to try and have sharp-looking gear out on
the road."
And yes, HRT does get "really good feedback" on the look
of its trucks – from the public, within the industry and from
customers. People notice "because we have been painting them
a wee bit different since 2013."
Rural transport is a tough line of work in terms of keeping
trucks looking good: "The guys might spend all day polishing
them, and then they'll be down a gravel road the next day…
It's a hard job to keep them clean."
The realities of the rural work mean there's no hard and fast
rule about when trucks have to be washed: "Just when they can
– you've got to work within your time limits."
But he's happy that they get the care and attention they
deserve: "We like to think our drivers take pride in their
trucks. We all just like to have them look good out on the
road."
Courtesy of New Zealand Truck and Driver
New Stock Truck
Driver: Thomas Maclean
Imron Fleet Line Image Award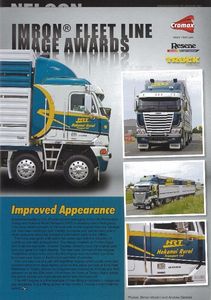 Southland boasts a host of rural carriers belonging to the HW Richardson Group and Hokonui Rural Transport (HRT) is certainly one of that group. This Gore based concern, is the rural side of the original Hokonui Haulage Ltd, had been running a bold metallic tourquise and yellow livery over a white base ever since the companys formation back in the 1990s.
The livery was given a lift nearly two years ago with the adoption with the adoption of a striking new strip arrangement. The design created by Timaru signs and Graphix signwriter, Andrew Geddes certainly took the original plain look and gave it a revamp. The new style, formed off the original Freightliner stripes from when the first Argosy launched, has since been laid over the firms mixed fleet of vehicles.
This unit was one of a pair of Freightliner Argosys which underwent the transformation from stock factory white to this stand out look at Elite Fleet Refinisher in Timaru where the tourquise was masked by Andrew and then sprayed on by the Elite team. From there the team at Timaru Signs added the yellow stripes and extra details which sets the truck off.
This HRT Argosy is a fine example of how lifting a companys image can pay dividends. It is a fitting winner of this months Cromax Imron Fleetline award.

Credit- Truck Journal
Photos- Simon Vincent and Andrew Geddes